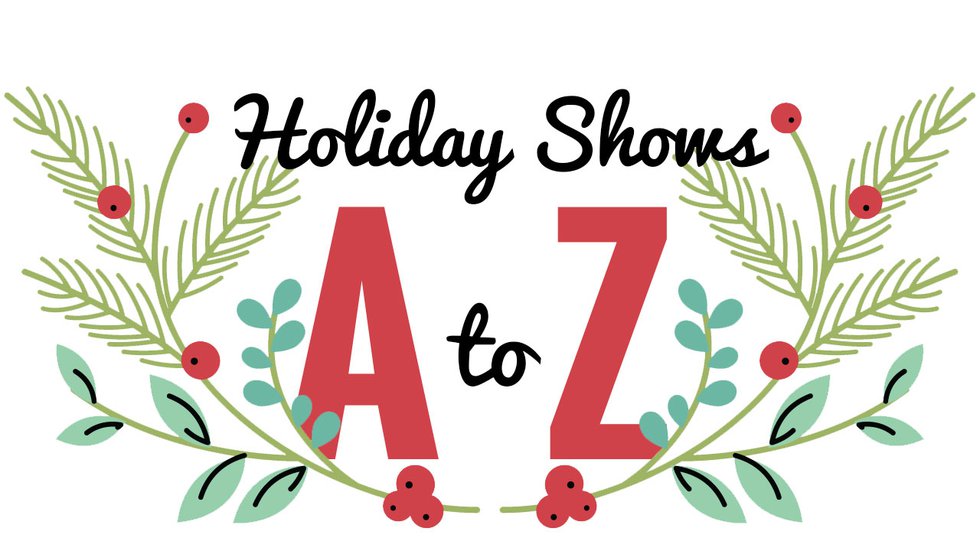 Whether you're more about the here-we-go-a-wassailing side of the holidays, or like a bit of comedy (and knife-throwing) in the mix, there's a show in the Twin Cities just for you. Our handy a-to-z guide makes finding seasonal fun all the merrier.

Bah humbug! The biggest Twin Cities holiday tradition is back, with its 42nd telling of the tale of Ebenezer Scrooge. If this isn't already your family's annual plan, you might as well make it one, since it's definitely not going anywhere anytime soon. Nov. 16 – Dec. 30. Tickets $34 – $137. guthrietheater.org
A is for An Andy & Bing Christmas at various locations.
Who would imagine that a former Super Bowl winner would be the star in a Christmas show? Ben Utecht and Mick Sterling, along with a 17-piece orchestra, perform classic Christmas songs from Andy Williams and Bing Crosby. Dec. 10 – 31. Tickets $12.50 – $25.

B is for Black Nativity at Penumbra Theater.
Penumbra is once again putting on this holiday favorite—and playing  host to the Fellowship Missionary Baptist Church Choir. Black Nativity is a show that centers around the community and the work we can do to make it better, all while singing loud. Dec. 1 – 23. Tickets $15 – $40. penumbratheatre.org
The best-selling book is now on stage, telling the story of what happens when the Christmas pageant meets the trouble-making Herdmans. Dec 2 – 23. Tickets $9 – $16, with pay-what-you-can on Dec. 10. steppingstonetheatre.org

It's nearly the holidays, which means that it's time for food, hot cocoa, and perhaps too much family time. After eight years, the story of Carole and her Mankato Christmas is back. Nov. 30 – Dec. 23. Tickets $30 – $45. theaterlatteda.com
C is for Celtic Christmas by Katie McMahon at The O'Shaughnessy.
Katie McMahon was the original soprano with Riverdance, and once again, she's bringing traditional Irish dance and song to the holidays. Dec. 23. Tickets $10 – $28. oshag.stkate.edu
C is for Cinderella at the Children's Theatre Company.
The CTC reworked its previous versions of Cinderella, promising "updated songs, gags, and mayhem." As long as the mayhem is not that dude from the Allstate commercials, it should be cool. Nov. 8 – Jan. 8. Tickets $15 – $71. childrenstheatre.org

Chances are you've seen A Christmas Carol before, so now it's time to mix things up a bit with this spoof featuring songs like "You Can Call Me Tiny," "The Wheel is Turnin' but the Hamster is Dead," and more. Nov. 25 – Jan. 2. Tickets $47 – $57.  donthugme.com
She's sung backup for Elvis and Cher, and performed "Christmas (Baby Please Come Home)" annually on The Late Show with David Letterman. Now she's bringing her powerhouse voice to the Twin Cities for a one-night-only performance. Nov. 30. Tickets $38 – $111.50. ordway.org

During the first year of World War I, both sides put down their guns, left the trenches, and exchanged gifts for Christmas. This is the (musical) story of that historic event. Dec. 15 – 18. Tickets $40 – $45. hennepintheatretrust.org
Elves and shoes are popular themes among holiday stories, but throw in some magic and music, and you get a spectacular show for the family. Nov. 29 – Dec. 28. Tickets $18. mn.sidekicktheatre.com

There's nothing more Minnesotan than holiday shows and ice fishing. The world premiere of this holiday comedy brings with it the story of two sisters who are ready to take on the ice-fishing contest in Duluth.  Nov. 11 – Dec. 23. Tickets $20 – $27. yellowtreetheatre.com
Believe it or not, this will be the 51st season for the Twin Cities' longest running production of the Nutcracker. 150 dancers, both touring and from the Minnesota Dance Theater & School make up this production that's a classic for a reason. Dec. 16 – 23. Tickets $20 – $75. mndance.org

Graduates of the top ballet schools all over the world are touring and performing in this classic, while the sets have been created by an Academy Award-nominated set designer—making this a creme de la creme holiday show. Nov. 26. Tickets $32 – $179. nutcracker.com
If a grown-ups-only, mobile-living-themed, hilarious holiday tradition is what you want, then that's exactly what you'll get! Dec. 2  –  Dec. 23.  Tickets $21 – $27. camp-bar.net
Pretty much your standard Nutcracker, except set in a different era (now) and place (New York City), with hip-hop-infused music and dancing instead of classical-infused ballet, and with 1980s rapper Kurtis Blow narrating. Nov. 22 – 23 .Tickets $24 – $92. ordway.org
H is for the Holidazzle in Loring Park.
The Minneapolis tradition is back (and even better), with Santa, movie nights, skating, food, and more. To kick it all off, on opening night enjoy a holiday lighting, music, and fireworks along with your sausage and mulled cider. Nov. 25 – Dec. 23. Free admission. holidazzle.com

The Minnesota Orchestra will be performing the movie's score by Dimitri Tiomkin, so you can see the famous film like never before—on the big screen with full orchestral accompaniment. Dec. 17 – 18. Tickets $30 – $80. minnesotaorchestra.org
It's all the magic and favorite songs from the 1954 film…with the added magic of seeing it live. Dec 8 – 31. Tickets $34 – $154. ordway.org

J is for Jingle Bell Doc by Doc Severinsen at Orchestra Hall.
The "Doc" in this case is Doc Severinsen, the trumpet-playing, crazy-shirt-wearing conductor, who's back for his annual holiday visit. Dec. 16 – 17. Tickets $30 – $75. minnesotaorchestra.org
J is for KDWB's Jingle Ball at the Xcel Energy Center.
The classic winter concert is back, and this time they're counting Backstreet Boys, Tove Lo, Alessia Cara, G-Eazy, Fifth Harmony, and more as members of their lineup. Dec. 5. Tickets $38.50 – $148.50. xcelenergycenter.com

It probably hasn't occurred to you that you could see a holiday show that featured knife throwing, but here you go. Bring the family and watch The Danger Committee bring you comedy and (of course) danger. Nov. 25 – Jan. 7. Tickets $20 – $38. bravenewworkshop.com
Local singer and a star of The Voice from season 6, Kat Perkins is bringing holiday classics with modern, rock-and-roll twists to the historic Chanhassen Dinner Theater. During each show, she'll bring an up-and-comer on stage to share the spotlight. Dec. 17 – 18. Tickets $40 – $55. chanhassendt.com
The master storyteller is back in his home state to spin hilarious tales of holiday traditions. He's here for one night only, so make sure you get in while you can! Dec. 12. Tickets $23 – $28. guthrietheater.org

The holidays are known for food, presents, and family bickering. Take it to a whole new level, with King Henry II, his imprisoned queen, and their three sons vying for the throne. Nov. 19 – Dec. 31. Tickets $15 (for preview shows) – $67. guthrietheater.org
L is for La Natividad at In The Heart of The Beast Puppet and Mask Theatre.
The holidays are all about community, so why not combine the Christmas nativity story with an exploration of four different areas in the community? The story is entwined with humor, live music, and food, and is presented in English and Spanish. Dec 15 – Dec. 22. Tickets $17 – $23 (including food). hobt.org
The Duluth-based group has been writing songs for more than 20 years, and after releasing their fifth album in 2015, they're coming around for a Christmas show. Dec. 17. Tickets $20 – $25. 18+ first-avenue.com

Christmas music plus plenty of synthesizers and an attention-grabbing light show makes for a new-age-groovy time, from a band that built its reputation on their holiday albums. Dec. 4. Tickets $48.50 – $68.50. hennepintheatretrust.org
This classic carols-focused tour is said to be one of the most intimate in Lorie Line's impressive 27 years of touring. But don't worry, Santa will still make an appearance. Dec 10. Tickets $54. hennepintheatretrust.org

N is for Nicholas David's Annual St. Nick's Day Show at Pantages Theatre.
The star from The Voice was already a successful artist before his time on Team CeeLo, but he hasn't forgotten his Twin Cities roots. The St. Paul-based singer's holiday show features his own songs plus a few classics. Dec. 4. Tickets $32.50 – $42.50. minneapolis.org
N is for Nutcracker (not so) Suite at the Cowles Center for Dance & Performing Arts.
You've been doing the Nutcracker for years on end, why not switch it up a bit? Set on the Upper East Side with hip-hop, R&B, and Christmas Carols, this is the perfect way to evolve your holiday traditions. And if you want a slightly racier version, check out the Naughty Nutcracker performances on December 9, 10, 15, and 17. Runs Dec. 2 – 16. Tickets $25 – $50. thecowlescenter.org
You may know them for reinterpreting Brittany Spears' song Toxic into a multi-faceted, full-jazz-band-backed new sound—and that's the same approach The New Standards bring to their Holiday Show. Surprise special guests, variety show elements, and dancers make for quite a spectacle. Dec. 2 – 3. Tickets $35 – $100. hennepintheatretrust.org

The Oak Ridge boys are back with their annual Christmas Night Out Tour, and they're pulling out all the stops—expect a stage set with falling snow and a guest appearance from Santa. Nov. 28. Tickets $25 – $45. hennepintheatretrust.org
O is for the live orchestra accompanying the Nutcracker Ballet at the Lindberg Center.
Enjoy the classic holiday tale, with artists from Metropolitan Ballet and Hopkins Youth Ballet accompanied by a full symphony. Dec. 17 – 18. Tickets $39 – $59. metroballet.org

It's a story that everyone seems to be familiar with in some way or another, which makes it even more comical. Watch as the church basement ladies work to get ready for the Sunday School Christmas Program, without even realizing what they're in store for. Nov. 16 – Dec. 31. Tickets $29 – $40. plymouthplayhouse.com

Q is for queen as in A Drag Queen Christmas at the Pantages Theatre.
Get ready for a holiday spectacular starring contestants from past seasons of RuPaul's Drag Race. All ages. Nov. 18. Tickets $26 – $59.50, VIP packages $87 – $170. hennepintheatretrust.org
R is for Ralphie from A Christmas Story at Lyric Arts.
The holiday season has a way of bringing out the dysfunction in families. Especially for a 9-year-old who just wants an official Red Ryder, carbine action, two-hundred shot range model air rifle. Nov. 18 – Dec. 18. Tickets $18 – $32. lyricarts.org
It may be the last thing we ever expected from R. Kelly, but at the same time, do we ever know what to expect from him? With the release of his first holiday album, he's taking his show on the road to make sure everyone's ready for the holiday season. Dec. 10. Tickets $62 – $132. ticketmaster.com
You may have thought you'd be done with Miss Richfield by now, but it's been 17 years and she's still ready to go.  Running for office in the most hilarious way she knows how, Miss Richfield is back for her annual holiday show. Dec. 2 -17. Tickets $32 – $59. illusiontheater.org

S is for St. Paul Ballet's Nutcracker production, Clara's Dream, at The O'Shaughnessy.
Travel through the dreams of Nutcracker character Clara during a performance that features 100 dancers and even more costumes. Dec. 2 – 4. Tickets $19 – $32. oshag.stkate.edu
The renowned (and one of the United States' oldest) musical Christmas celebration is back with more than 500 student musicians. And if you don't have the chance to make it out to St. Olaf to see it, it will also be available through a live stream online. Dec. 1 –  Dec. 4.  Tickets $30. christmas.stolaf.edu

Nobody's perfect, and that includes Santa. Tag along on a wild adventure with a mouse, an elf, and a little girl chasing Santa after he missed their house. Dec. 1 – 17. Tickets $12 – $22. lyricarts.org

U is for the U of M's Ted Mann Concert Hall hosting Twin Cities Gay Men's Chorus's Gay Holiday Spectacular.
The Twin Cities Gay Men's Chorus will be joined on stage by the Copper Street Brass Quartet to play favorite holiday tunes. What's more, they'll be doing it with a backdrop of beloved TV holiday specials! Dec. 9 – 11. Tickets $25 – $48. tickets.umn.edu

V is for Vocal Essence's Welcome Christmas at Roseville Lutheran Church.
Some say that the best way to spread Christmas cheer is singing loud for all to hear….and Vocal Essence agrees. They're telling the story of Christmas through choral songs with nods to the music of Mexico and the American Southwest—plus a singalong portion. Dec. 9. Tickets $20 – $30. vocalessence.org
It's a grown-up holiday tradition, featuring fun new twists on all the holiday classics (and all that you'd hope to see at a burlesque show). And with shows on New Year's Eve and New Year's Day, there's no better way to celebrate! Dec. 22 – Jan. 1. Tickets $35 – $50. 18+ thelabtheater.org

When they say "white Christmas", they aren't joking. This performance of this timeless film is complete with snow inside the theater! Dec. 8 – 31. Tickets $49 – $159. ordway.org

Yeah winter is intense, painful, and frustrating, but it also means that it's almost the holidays and there is no better way to celebrate the season than TSO. Dec. 10. Tickets $36 – $77. xcelenergycenter.com

Y is for Youth Performance Company's The Littlest Angel.
It's the classic kid's holiday tale of a troublemaking angel, but of course with a happy ending. It's appropriate for all ages, so bring the entire family to really jump into the holiday season. Dec. 2 – 18. Tickets $5 – $8. youthperformanceco.org

Z is for is for Jenna Zark who wrote The Magic Dreidels at Minnesota Jewish Theater Company.
When young Jakob loses his dreidel and a troll replaces it with a magical one, he's set on a path of adventure with his Father and their lonely neighbor. Dec. 6 – 21. Tickets $18. mnjewishtheatre.org